Aircraft Sales
2006 - Embraer Legacy 600
Highlights
The perfect tool for business and leisure.
Get onboard this fantastic aircraft and
experience all the advantages of this Large
Jet. Low direct operating costs combined with high
reliability gives this aircraft model a proven track
record. The full enrollment on the manufacturers
Embraer Enhanced Care and Rolls Royce Corporate
Care programs as well as by now the world highest
operation standards absolutely secure a maximum
safety level and control of your maintenance budget.
---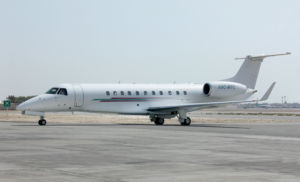 Basic Info
Interior – Cabin
Equipment
Engines
APU
Avionics
Maintenance Status
Exterior
Aircraft Type & Model                                 EMB-135BJ – Legacy 600
Serial Number                                              14500975
Engine Type & Model                                  Rolls Royce– AE3007A1E
APU Type & Model                                      Pratt & Whitney – APS500R
Manufacture Date                                        Dec. 4th, 2006
Entry into Service Date                               Dec. 4th, 2006
AFTT                                                              3486
AFTC                                                              1741
PAX                                                                up to 13 Passengers
The aircraft can seat up to thirteen (13) passengers arranged in three cabin zones. The front cabin zone comes with two Single Club Seats and retractable side table followed by L/H double club configuration and retractable pedestal table all in Townsend Oyster opposite to a Credenza with Natural High Gloss Veneer. The rear zone consists of a L/H single club seat arrangement in Townsend Oyster opposite to a 3 PAX Divan in Glant Beaver04. The aft lavatory includes a Toilet and Vanity as well as a Coat Storage Cabinetry.
The entry section consists of a R/H galley including a stainless steels sink, a high temp oven, a thermos storage, a coffee maker, a microwave oven,ice drawers as well as ample storage and utility compartments as well as a L/H side crew lavatory including a serviceable toilet as well as a sink w/ vanity. The aft lavatory includes a Toilet and Vanity as well as a Coat Storage Cabinetry.
The cabin info and entertainment consists of two 15' LCD monitors on FWD and AFT bulkheads, six audio speakers as well as an Airshow 4000 system. The cabin consists of 110V outlets in each of the arm ledge storage boxes, one SVGA port in the VIP seat. An Iridium ST -3100 / Aerocom 1000 interphone system with two handsets as well as dual channel Inmarsat allows connection to ground. Additional WLAN and three RJ45 connectors complete the cabin telco system.
Rolls Royce – AE3007A1E
Fully enrolled on Rolls Royce Corporate Care
ENG1 TT: 3486 ENG1 TC: 1741
ENG2 TT: 3486 ENG2 TC: 1741
Pratt & Whitney – APS500R
APU TT: 3661
APU TC: 3380
Honeywell Primus II 1000 containing:
Dual KHF 1050 HF Comm. Radio
Solid State Cockpit Voice Recorder
Solid State Flight Data Recorder
Dual VHF-Comm. RCZ833K
Communication Management Unit CM950, with third VHF RCZ833K
Aircell 3100 Satcom
Triple AV-850 Audio Control Panel
Dual RCZ833 Enhanced Mode S Transponder
Weather Radar, WU-880
Dual LCR-93 AHRS
Dual IC-600AP with Autopilot
Mark V EGPWS
Dual AZ-850 Air Data Computers
Dual Integrated Navigation Unit RNZ-851, NAV/ADF/DME
Five 8" x 7" displays (2x PFD, 2x MFD and 1 EICAS)
Dual FMS NZ-2000 + GPS
Single TCAS 2000 Processor with TCAS 7.1
Three-frequency ELT 96A
Magnetic Compass
Dual IR360, Laseref IV, Inertial Reference System
Single RT-300 Radio Altimeter
SELCAL
Integrated Standby Instrument System (ISIS)
In accordance with Maintenance Program
The aircraft is overall white with silver and maroon stripes.
Range map
Maximum range: 3,485 NM / 6,454 km
Looking for more information?
Please contact our
Aircraft Sales Department